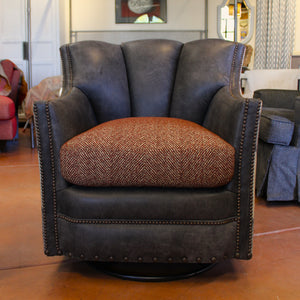 Description: 
The Zeuss Swivel Glide Chair by King Hickory is a striking and balanced piece that brings joy to any home. It is found within the armchair subgroup. The style of this piece of furniture falls into the modern/contemporary category. 
DIMENSIONS:
Width 33" (83.8 cm)
Depth 33" (83.8 cm)
Height 32" (81.3 cm)
Arm Height 23" (58.4 cm)
Seat Height 19" (48.3 cm)
Inside Width 20" (50.8 cm)
Inside Depth 20" (50.8 cm)
Inside Height 13" (33 cm)
King Hickory makes sofas and chairs with proven, old world techniques built for the long term. The durability of solid hard wood frames is designed for buyers that are not in the market for disposable furniture. Long lasting support is achieved through the use of 8-way hand tied, hourglass shaped steel springs. Solid core Hish Resiliency foam cushions are best suited for people that want immediate comfort mixed with shape retaining tailoring. All of these components, when made to true bench made upholstery standards, coalesce into furniture designed for customers that want their furniture to last.